Noggin the Nog
18th February 2018
---
Event Details:
Booking:
Main Hall
Event Date(s):
Sun 18 Feb 2018
Event Time:
7:30 pm - 9:00 pm
Event Host:
Village Hall Committeel
Event Type:
Public
Description
Third Party Productions creatively brings The Sagas of Noggin the Nog to life in a performance directed by John Wright involving four actors, puppets, film projection and a dragon.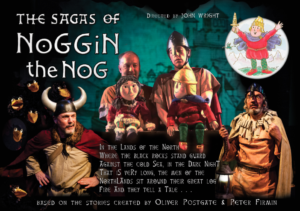 The Viking Storytellers bring the wonderful tales of Noggin the Nog, created by Oliver Postgate & Peter Firmin, to the stage in this new piece of theatre for Children, Families and Fans.
In the Lands of the North where the black rocks stand guard against the cold sea, in the dark night that is very long, the Men of the Northlands sit around their great log fires and they tell a tale. Accompanied by the brave and mighty ThorNogson and the great green bird Graculus, we go North on a journey of adventure & discovery to battle the fearsome Ice Dragon and the dastardly deeds of Noggin's wicked uncle; Nogbad the Bad!
The play will be in two halves of approximately 30 minutes, the first half will be Noggin & the King; the second, Noggin & the Ice Dragon.
Tickets – Adult £12, Child £3, Family £18. Box Office 01379 586307
"Clever, witty and entrancing . . . unquestionably a hit" – THANET GAZETTE
---