Jill Cable: An appreciation
8th June 2020
---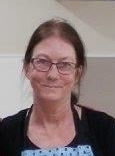 It is with great sadness that we learn of the death of Jill Cable after a serious illness.
In the 1970s Jill moved to Metfield where there was the nucleus of a burgeoning alternative culture which fitted her open, practical and generous life philosophy.  Metfield was to be Jill's home for the rest of her life, raising her family, first at Office Farm, then Turkey Hall, followed by Saffords Farm before moving to Squires in The Street.
Friends Sally and Mac MacKinnon first met Jill when she was living at Turkey Hall.  Sally recalls they shared similar ideals which involved a simpler way of life in the countryside.  "The early Barsham Fayres and a few very popular pubs such as the De La Pole Arms at Wingfield, The Cratfield Poacher and the Rumburgh Buck which hosted great bands in the 'Hut' were our meeting places.  A smallholders group began at this time and, as we were mostly new to rearing animals and growing vegetables, that helped us share knowledge to pursue our ideals of a sustainable life."
Jill had an entrepreneurial side too, having inherited her father's acumen for business.  This led to her running a successful picture framing business in Diss in the 1980s and 90s.
Jill cared deeply about the community of Metfield.  She was a committee member and stalwart supporter of the village hall generously giving her time and enthusiasm to ensure the success of many hall activities over the years. When the Duke William pub closed, it was Jill who stepped in and filled the void by organising and catering highly popular, monthly dinners for villagers at her home.  More recently after the revamp of the Village Hall, Jill prepared superb, often themed, bar meals on Friday nights.  These were always fully-booked and no doubt directly contributed to the success of the new village hall bar.
From Gill & Nick Kingsley:
Jill was a big part of Metfield. Her delicious meals brought the village together on so many fun occasions, which we will always remember as very happy times. She worked so hard. We also remember late night chats when we all worked behind the bar, another fond memory.  Jill lived in the heart of the village and will be very much missed. Sending love to all those she leaves behind.  Thanks Jill for all the great memories you created, Metfield will not be the same without you.
Bob and Chris Williams
We first visited Jill as a homeopath, but this was soon followed by visits to Out To Lunch and Out To Supper in her house, and then her excellent monthly meals and Burns Nights in the village hall. She was such an talented  cook, and was always so concerned that she hadn't cooked enough, that she always cooked too much! It was such a joy just to wander up the road to have a great night out with friends, and we will miss her being such a vital part of the community spirit in Metfield. Rest in peace Jill.
Wendy Abbott
I would like to send my condolences to the family at this very sad time.
Danny and Jade
Rest in peace Jill. Me and Danny will miss our chats with you by the bar with a drink in hand. God bless xx
If you would like to add your personal memory of Jill to this post, please use the
contact form