Introduction
Metfield Village Hall reopened in March 2017 after a six month extension and refurbishment building project costing over £300,000 funded by a generous grant from the Big Lottery Reaching Communities Fund with additional grant funding from Mid Suffolk District Council and Suffolk County Council.  Individual residents of Metfield and the surrounding area also made generous donations totalling £3,440 to fund the creation of this website and initial operating costs of the new building.
The facilities comprise the Main Hall with an adjoining commercially equipped Kitchen and two lounges, the Meadow Room and Long Lounge, which are both served by a fully licensed Bar.
The Main Hall, Meadow Room and Long Lounge may be hired separately or together and both the kitchen and/or bar may be added to your hire.  The kitchen is also available for hire on a standalone basis but the bar can only be hired along with either the Main Hall or one of the Lounges.  All hires of the bar must include staff provided by Metfield Village Hall.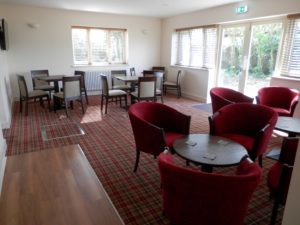 Unfortunately it may not be possible to offer every hiring combination at all times.  For example, if the Meadow Room and Main Hall are hired out, then it is not possible to offer the Long Lounge to a third party.
There is WiFi available throughout the Village Hall for free public use subject to fair usage; see wifi terms of use.  The guest network username is MVH_Guest and the current password is MVHMar2017
Metfield Village Hall is fully licensed with the PRS for Music to play, perform or make available copyright music.
The Village Hall has wheelchair access and is wheelchair friendly throughout, including at the bar in the Long Lounge.
There are baby changing facilities in both the Disabled and Mens toilets.