"To Helen Back", a comedy art performance
27th October 2017
---
Event Details:
Booking:
Main Hall
Event Date(s):
Fri 27 Oct 2017
Event Time:
7:00 pm - 9:00 pm
Event Host:
Helen Seymour
Event Type:
Public
Description
To Helen Back is Helen Seymour's spoken word, comedy, performance art show directed by award winning Hannah Silva.
Please book in advance by calling 01379-586307.
Pay whatever you choose!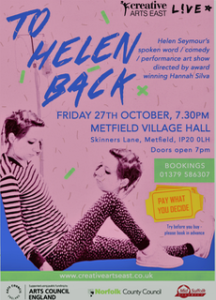 Nominated for "New writing south's best new play" at Brighton Fringe 2017.
Analysing sickness, health and what it really means to recover, Helen Seymour admits you into a surreal hospital to create a funny, unique and powerful theatrical experience.
DONATE: Every £1 you donate will be doubled thanks to special funding from Arts Council England.
www.creativeartseast.co.uk/donate
---