Invasion of Scarecrows
19th August 2017
---
Metfield has been invaded by hordes of scarecrows all vying to win the Village Fete prize for the best, most imaginative bird scarer.  After exhaustive judging by Eve and Joey Peck, first prize went to Frankie & Wayne for their tableau of straw filled 'selfies' sitting by the fire on a typical evening at home.
The competition was undoubtedly fierce with many clever and amusing scarecrow creations catching the eye.  Brenda's beekeeper bending over a hive is a slightly disorienting distraction for traffic entering the village from the Halesworth direction.  Meanwhile a sexy(ish) police scarecrow has been keeping an eye on goings on in the Village Hall bar but perhaps she would have been better occupied taking the scarecrow behind the bus shelter to task for passing straw in public.
Elsewhere a nasty bike crash resulted in a straw rider upended in a hedge having narrowly missed another straw figure sitting on a bale. Definitely a lack of cycling strawficiency.  Where's that straw constable when you need one?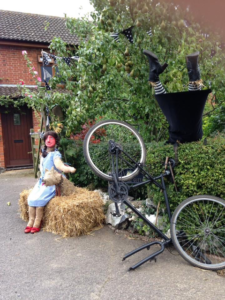 Donald Trump's scarecrow twin also ended up in a hedge after overdoing an 'alt-right' at Skinners Close.
Take a stroll round round Metfield or head out the Halesworth Road or Christmas Lane to see all the amazing scarecrows, often in unexpected places.
Huge congratulations to everyone who extended their creative energies making scarecrows and bringing a smile to the face of many a passer by.