Rural Coffee Caravan
21st May 2018
---
Event Details:
Booking:
Bar, Main Hall
Event Date(s):
Mon 21 May 2018
Event Time:
10:00 am - 2:00 pm
Event Host:
Rural Coffee Caravan
Event Type:
Public
Description
Feeling a bit fed up? Like some company.? Just want to try something new?
Together with Suffolk County Council and AgeUK Suffolk we are inviting you to come and tell us what activities you would like to see in your hall and try a few that we have bought with us.
Presented by the Rural Coffee Caravan there will be music, taster sessions in poetry and craft and the chance to try New Age Kurling and Boccia ( all inclusive, any age or ability)
21st May 10am to 2pm at Metfield Village Hall
We now have Healthwatch, The Good Neighbour Scheme and Fit Villages also coming so it's going to be a great event for people to talk about what they would like to see in the village. And they can also have a chat with Healthwatch if they have any grumbles about health or social care.
Free Refreshments
And, as its National Dementia Awareness Week you will have the chance to become a Dementia Friend ( if you have any memory worries, you discuss them too)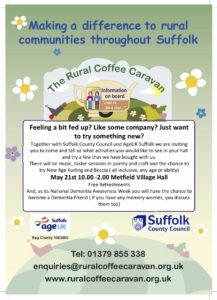 ---