Mini Beer Festival at Summer Fete
14th July 2017
---
This year the annual Metfield Summer Fete on Saturday August 19th will feature a Mini Beer Festival hosted by the Village Hall Bar.  This will take place alongside the 40th Annual Metfield Produce Show which occupies in the Main Hall from 1:30pm.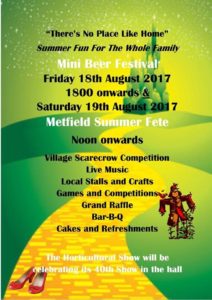 The Mini Beer Festival will kick-off  at 6pm on Friday 18th August and then continue from Noon on 19th August during the Village Fete.
The Fete will include Live Music as well as a Scarecrow Competition in addition to a range of games and competitions, Bar-B-Q and various stalls and crafts.  There will also be a grand raffle.