Beer Festival
6th July 2018
---
Event Details:
Booking:
Bar, Long Lounge, Meadow Room
Event Date(s):
Fri 06 Jul 2018
Event Time:
6:00 pm - 11:00 pm
Event Host:
Village Hall Committee
Event Type:
Public
Description
After the phenomenal success of the mini beer festival last year, instead of being run in conjunction with the Village Fete, this year our Beer Festival has its own dedicated weekend. Starting at 6pm on Friday 6th July, the Festival will pick up again from 12pm on Saturday 7th July.
This year we will do our best not to run out of beer on the first night!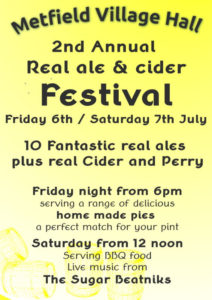 ---